Christmas Cakes And Mistletoe Nights | Carole Matthews
---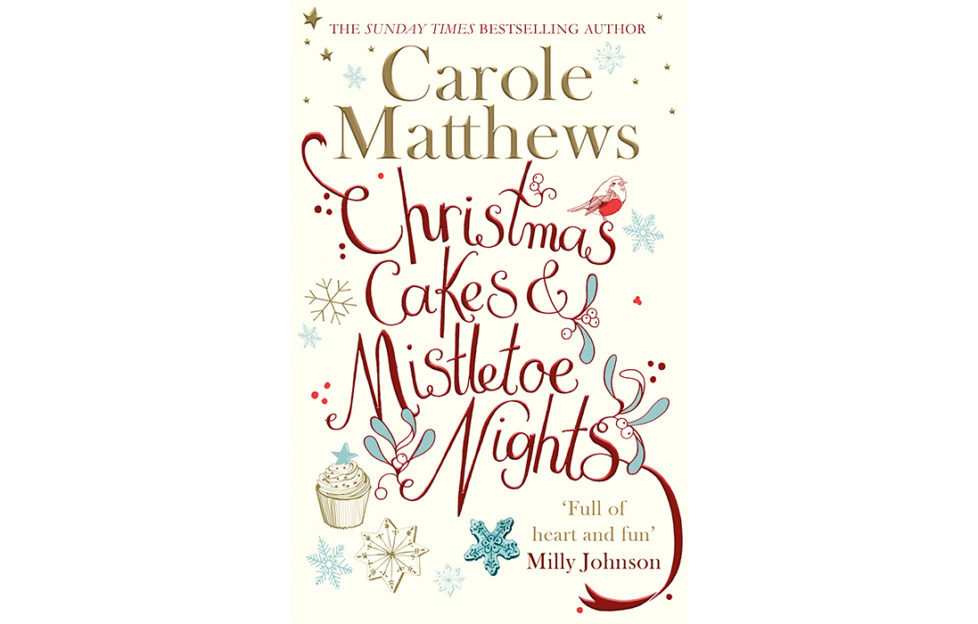 REVIEWED BY SARAH PROCTOR
Carole returns with her popular characters Fay and Danny, with plenty of Christmassy twists and turns
You may have met fortysomething Fay and her gorgeous Irish toyboy Danny Wilde in Carole's book The Cake Shop In The Garden. If not, it doesn't matter – they welcome you into their lives so warmly that you feel you've known them for ages. They have a similar effect on their author, who found they kept popping back into her mind and so she grew curious about what they were up to.
So here we have an idyllic scenario with a twist. Fay's beloved childhood home where she ran a tearoom was left to her half-sister, who put it up for sale. Happily it was bought by Fay's tearoom colleague Lija, and Fay sailed off into the sunset with Danny on his canal boat The Dreamcatcher. Danny has left behind his lucrative but self-destructive City career for casual work on the canal.
For a while, they enjoy the beauties of life on the canal and nights of passion, with no greater worries than the Dreamcatcher's plumbing and whether there is any wine left. From Milton Keynes they are heading for Wales when there is an anguished phone call from Lija. Real life needs Fay back.
Fay rushes home to help
Leaving Danny to retrace their route along the waterways, Fay leaps on a bus and returns to find their neighbour Stan – 93 and virtually family – seriously unwell; Lija working herself into the ground as her Christmas afternoon teas fly off the cake stands; and The Maid Of Merryweather, Fay's father's cherished narrowboat, gradually sinking into the canal.
Still, Fay's return dramatically eases the first two crises. Stan begins to recover and prickly, sarcastic Lija welcomes her back gruffly to help in the tearoom. There is also Rainbow, the hard-working teenage waitress Lija hired even though her joyful exuberance and ill-informed chat drive her mad (because the only other applicant had BO). We can share Fay's undimmable optimism.
More trouble is in store
But then… the canal floods in torrential rain and there are even more leaks in the roof; Fay's spoiled half-sister Edie arrives unannounced from New York for Christmas; it turns out there is more to Lija's ashen-faced exhaustion than meets the eye; the Maid of Merryweather may now be beyond saving; and everywhere they turn, there is the gnawing worry about money.
Yet the customers keep coming, ever more delicious cakes are created, bonds deepen between all those in Fay's circle and the floodwater recedes. Danny (or "Hot Stuff" as Lija calls him) returns and they can all start looking forward to Christmas… and, it turns out, a wedding!
A great Christmas read full of humour and romance
For me, the best character in this book is not the gorgeous Danny (although he is), nor the hugely relatable Fay, but Lija. Her brusque, sweary, Latvian-accented utterances provide not only humour and ruthlessly apt nicknames, but also cut through to the truth of every situation. She is a great counterpoint to air-headed Rainbow, sometimes unrealistic Fay and self-serving Edie.
But as they all muck in together, you realise that everything is going to turn out all right – in fact, it's going to be idyllic. With a few Christmassy twists!
Christmas Cakes And Mistletoe Nights by Carole Matthews is published by Sphere in paperback, RRP £7.99, and available from Amazon.
More romantic Christmassy reads: