Easter Bunnies
---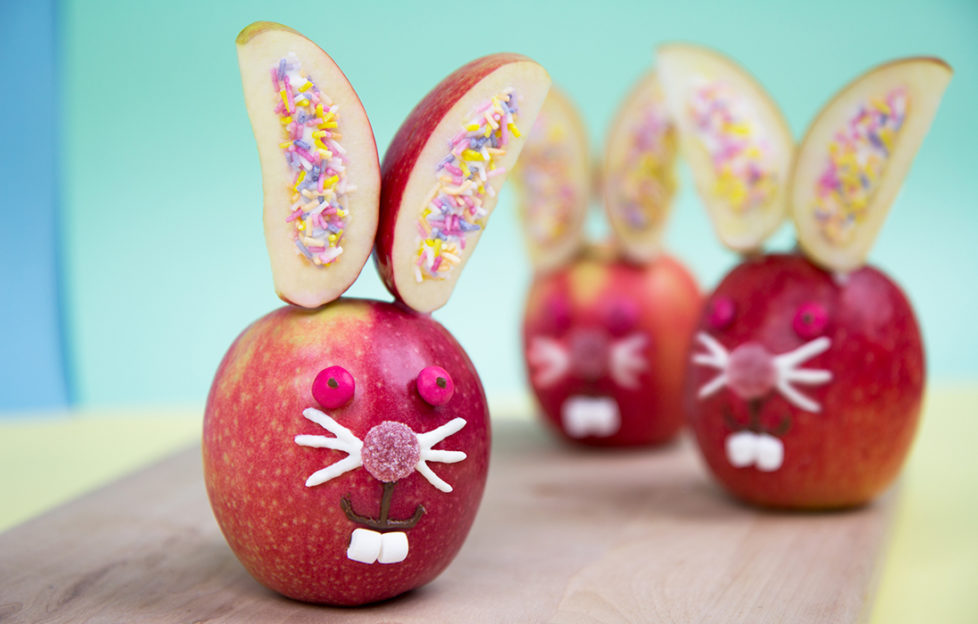 These cute Easter bunnies are so easy to assemble, and something the kids or grandkids can lend a hand with. Using Pink Lady apples, they are a healthy option, too!
Serves: 1
Preparation time: 10min, plus chilling time
Using chocolate spread, stick sugar coated chocolate sweets on to one whole apple for the eyes and a jelly sweet for the nose.
Draw on whiskers around the nose using royal icing.
Draw on a mouth using chocolate spread in a ziplock bag with the corner cut off, and add dots on the sugar coated chocolate sweets for eye detail.
Use chocolate spread to stick on 2 small halved marshmallows for the teeth.
Stick half a large marshmallow onto a cocktail stick. Dip it in apricot jam then desiccated coconut. Then attach to the back of the apple.
Cut 2 wedges from another apple and brush with lemon juice (to prevent browning).
Decorate each wedge with royal icing and sprinkles then stick a cocktail stick into the bottom of each. Leave to set in the fridge.
Attach the apple wedges to the top of the apple for ears and enjoy!