Chick Bics!
---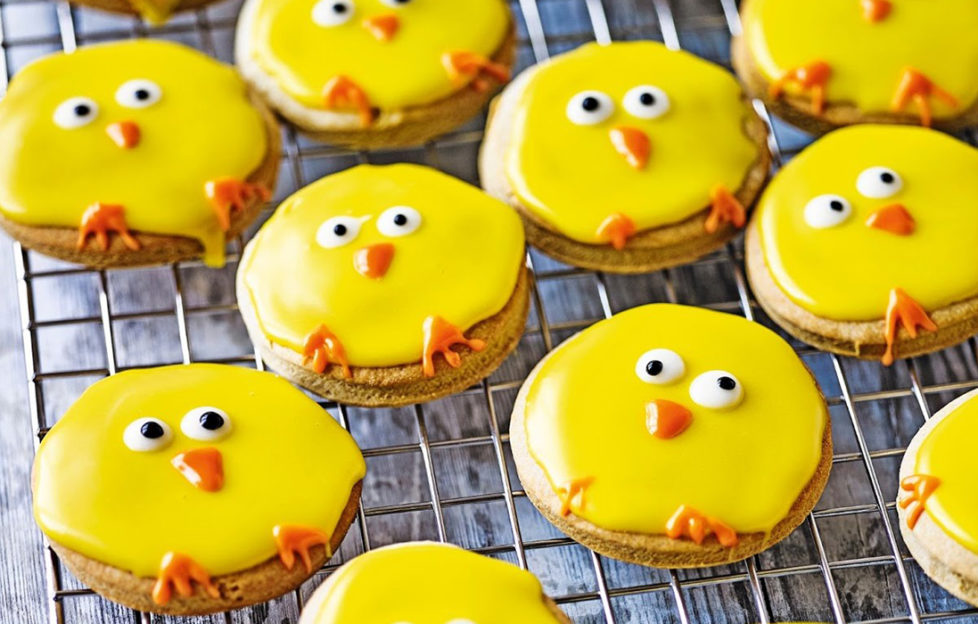 Colourful and cute, these delicious biscuits won't last long over the Easter weekend!
Preparation time: 30min
Cooking time: 9-10min
Makes: 24
Preheat the oven to 200°C, Fan Oven 180°C, Gas Mark 6. Line 2 large baking trays with baking parchment.
Place the flour, bicarbonate of soda and ginger in a large bowl. Add the Stork and rub in with your fingertips until it resembles breadcrumbs.
Mix the egg and syrup, pour this into the flour and mix to give a soft dough. Roll out onto a floured surface to 0.5cm thick and, using a 6cm round cutter, cut out 24 rounds. Place on the trays leaving space between them. Bake for 9-10min or until golden. Cool on a wire rack.
Sift the icing sugar into a large bowl and add 2-3tbsp water until you get a smooth mixture that is thick but just pourable. Reserve 2tbsp in a small bowl and set aside. In a separate bowl add ½tbsp icing and add a little black colouring. Finally, reserve 1tbsp icing and add a little orange colouring. Place all these in 3 separate plastic piping bags until required. Add yellow colouring to the remaining icing.
Spread the yellow icing over the biscuits up to the edge and allow to dry completely. Pipe pea-sized circles for eyes with the white icing and fill in the centre. Using the orange icing, pipe beaks and 3 small lines at the bottom for feet and allow to dry. Make dots in the centre for the eyeballs with the black icing to finish.
Pick up this week's issue of My Weekly for some gorgeous floral inspired recipes!