Hot Cross Bun Garland
---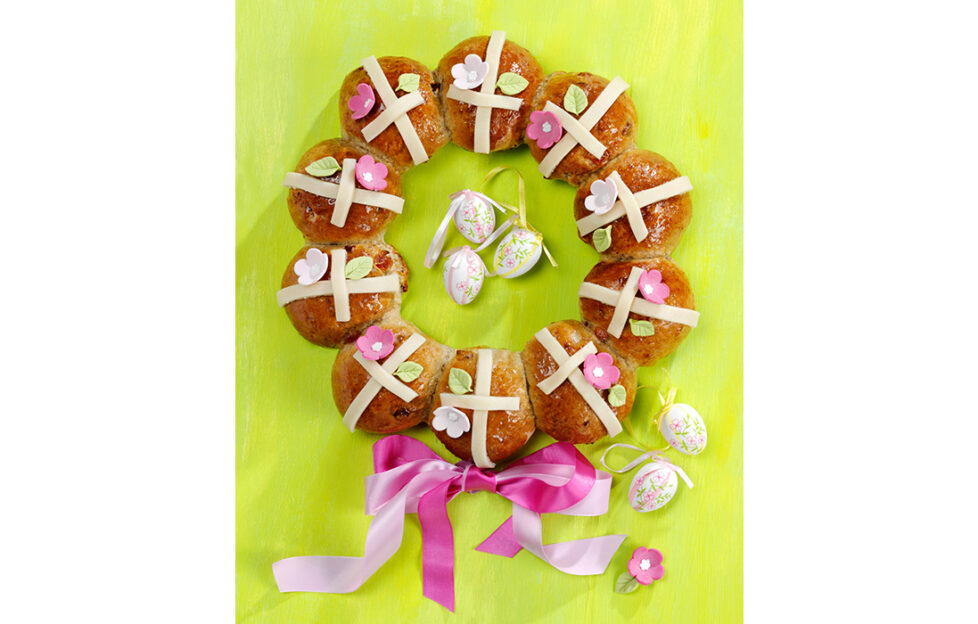 Pic: Stuart MacGregor
Traditional yumminess presented in a delightful new way! Perfect for sharing at an Easter family get-together.
Preparation Time: 30min+30min rising
Cooking Time: 20min
Serves: 10
1. Put the bread mix in a bowl and stir in the spice, cranberries and orange rind. Put the orange juice in a jug and add water to the required amount of liquid given on the packet. Follow the instructions for mixing, kneading and resting.
2. Work the cherries into the dough then divide into 10 portions and shape into buns.
3. Arrange in an approx. 25cm circle, almost touching each other on a large lined baking tray. Cover with oiled cling film and leave to rise in a warm place for about 30min or until doubled in size.
4. Preheat oven to 220°C, Fan Oven 200°C, Gas Mark 7. Uncover the buns and brush with egg. Bake for 20min until richly golden. Cool for 10min then transfer to a wire rack and brush with honey.
5. Roll out the marzipan to make a 15 x 10cm oblong. Cut into 15 strips, and cut 5 strips in half.
6. To serve, slide the buns on to a serving board and top with marzipan crosses. Decorate with sugar flowers. Add a ribbon if liked. Serve warm or cold with butter and jam.
Pick up this week's bumper issue of My Weekly for 6 more gorgeous Easter treat recipes by Kathryn Hawkins, and much more! £2.25 from newsagents and supermarkets, normal weekly price £1.60. Subscribe for a great money saving deal.