Bring Out the Barbecue!
---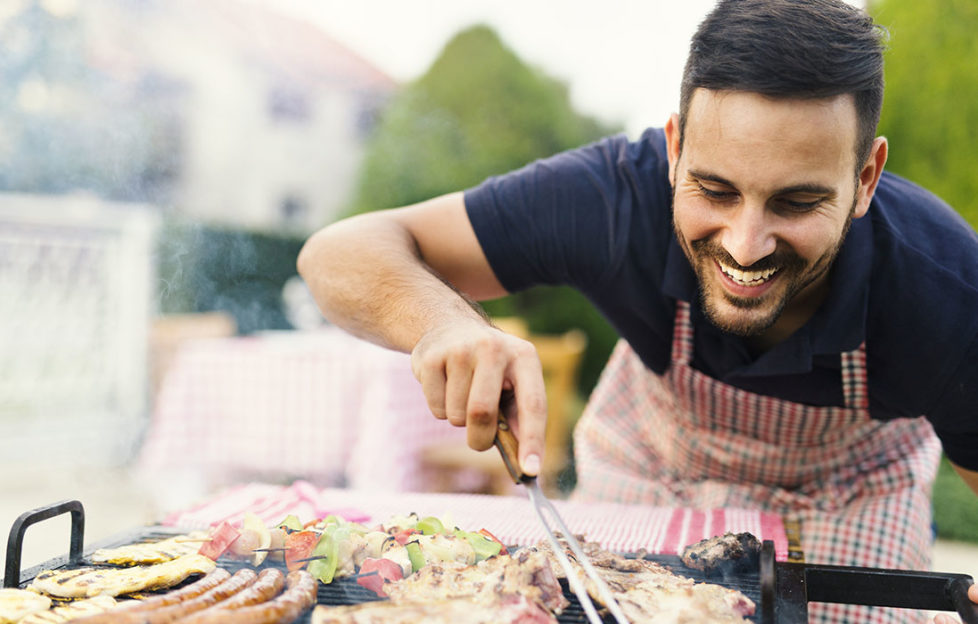 Pic: Shutterstock
Although we can't socialise with friends and family just now, an al fresco treat for your household is a great way to bring some fun to mealtimes during lockdown… and there are surprising health benefits too!
Being outdoors in the sunshine is a great way to raise your spirits, but did you know that barbecuing your food can actually have numerous health benefits?
From lowering your fat consumption to increasing the flavour of your meat and veg, barbecuing your food can be a quick, easy and enjoyable way to cook up a healthy meal.
Five health benefits of BBQ food
1. Grilling can lower your fat consumption
Barbecuing your meat can actually help reduce its fat content. This is because the excess tends to drip through the grates when cooking (unlike in a pan where your meat can absorb the fat). In fact, the NHS advises that grilling meat is a great way to lower your overall fat intake – just make sure you trim anything visible such as crackling to make your meal as healthy as possible.
 And remember that fat doesn't always have to be the enemy – include some avocado in your salads for a healthy, tasty source of fat!
2. Barbecued veggies are better for you
Your grilled meat shouldn't be enjoyed alone! Grilling your vegetables on a BBQ too is a great healthy option for getting your five a day through the warmer seasons. Not only does it once again reduce your fat intake (as you don't need to use as much oil) but cooking at a slower pace and lower temperature retains lots of vitamins and minerals – without losing any flavour.
The beauty of summer is that the majority of the vegetables you're cooking with are also in season, so not only will you be enjoying them at their freshest, but you'll also be cooking them to perfection.
3. Stay carcinogen-free
Using charcoal in your BBQ may expose you (and your food) to cancer-causing chemicals, with some people preferring to use bottled gas instead.
Another benefit to cooking with gas is that it's much easier to control the temperature of your BBQ, helping avoid the higher temperatures associated with carcinogens. Some great advice to keep the temperature manageable is to light the outside burners rather than the center one, then place your meat and veg in the center of the grill (with the lid closed).
4. Less is more
If you're a glorified grill master and have perfected the art of not overcooking your food, your barbecued meals should be packed with plenty of flavour. And what's more, as barbecued food locks in more moisture, you may not be as inclined to add condiments to your meal or reach for extra fats such as butter, cutting down on calories. Try using some lovely herbs and spices for flavourings.
5. Retain those nutrients!
The flavour of barbecued meat is without a doubt one of the main reasons so many of us will be grilling our meals this summer. But did you know that cooking your meat on a BBQ can actually preserve key vitamins – namely riboflavin and thiamine)?
Thiamine and riboflavin are B vitamins that help your body turn food into fuel for more energy, and play a vital role in maintaining a healthy diet.
Need some inspiration?
Here are some recipes you'll love!
Watch out for greedy pets at BBQs…
Research by Fetch reveals one in three of us feed our pets scraps  from the table – a habit sure to increase during BBQ season.
However a number of BBQ favourites are dangerous or toxic to pets:
Kebab sticks
Be extra careful of greedy breeds such as Labradors, Dachshunds, Pugs and Beagles. Wooden or metal kebab sticks can badly damage their organs and digestive system. If your dog has gurgling in the intestines and a painful abdomen followed by swelling, see a vet immediately.
Ribs and bones
Chicken and other small bones and may puncture your pet's digestive tract. Cover cooked meat with another plate, and dispose of bones in a lidded bin. If you notice appetite loss, vomiting, restlessness or lack of energy, contact your vet.
Corn on the cob
Corn cobs can cause choking, or obstruct the throat or digestive tract. If you fear your dog has swallowed one, contact your vet.
Onions
Shallots, onions, garlic and spring onions contain Allium that can harm your dog's red blood cells if they eat enough of them.
Damage does not generally show up for 3-5 days. Symptoms may include weakness, fatigue and dark urine. Seek veterinary assistance.
Guacamole
Avocado can cause stomach distress for cats and dogs.  The stone is also a serious choking hazard. If your dog eats avocado or shows signs of vomiting and diarrhoea, consult an emergency vet.
Chocolate and desserts
Chocolate poisoning can lead to heart arrhythmia, muscle tremors and seizures. Ingesting the sweetener Xylitol can lead to a quick, serious drop in blood sugar, with disorientation and seizures within half an hour. Some dogs may develop liver failure.
Pupcakes – cupcakes for dogs – are a great option. Try banana pupcakes, sweet potato and apple pupcakes or game biscuit bakes by Canagan. Make your cat feel included with tuna and shrimp cakes.

Raisins and grapes
These are highly toxic to cats and dogs. Signs include vomiting, lethargy or diarrhoea within 12 hours. Dogs become lethargic and dehydrated, refuse to eat and may show an increase in urination followed by decreased or no urination. Death from kidney failure may occur in 3-4 days, or long-term kidney disease. If your pet eats any grapes or raisins, see a vet immediately.
Plastic
A pet with an intestinal obstruction tends to vomit frequently. They may try to eat or drink, but generally cannot keep it down. You may be able to induce your dog to regurgitate a small, soft plastic object (if your vet recommends it). Or you may need to get your dog or cat to the vet for removal of a larger or sharper object.
Uncooked meat
Bacteria and bugs such as salmonella and listeria can increase your dog's risk of nutritional deficiencies and illnesses. Domesticated dogs live far longer than wolves and so need complete, balanced nutrition to live long, healthy lives.
If you fear your pet may have stolen raw food, watch for vomiting, a change in body temperature or refusal of treats and water. If worried, call your vet.
Alcohol
Alcohol can cause a dangerous drop in blood sugar and temperature, leading to seizures and respiratory failure in an animal. If you catch them quickly, induce vomiting immediately. Use hydrogen peroxide and table salt (1tsp per 10lbs of dog or 5lbs of cat), repeating every 15-20min until it's all out. If they consumed a large amount, see a vet fast.
No sharing allowed!
Small dog breeds such as Jack Russells, Pugs and Dachshunds have a daily requirement of around 392 calories. Medium to large breeds such as Labradors, Border Collies and Boxers have a daily intake of 1151 calories.
Scraps can quickly accumulate and exceed your pet's daily requirement.
Calories in your favourite barbecue food 
Pulled pork shoulder – 490 calories
Beef burger – 276 calories
American hot dog – 189 calories
White jumbo hot dog roll – 181 calories
Minted lamb rump steak – 178 calories
Cajun British chicken breast fillets – 167 calories
Dorito crisps – 150 calories
Burger bun – 147 calories
Pork and pepper kebab – 130 calories
Cumberland pork sausage – 128 calories
Cheese (30g) – 125 calories
Sweet chilli beef kebab – 113 calories
Lamb and mint kebab – 111 calories
Breadstick – 26 calories
Stock up on dog and cat treats so that your pet is kept occupied and out of harm's way, and never leave food unsupervised. Then you can enjoy your barbecue without dramas!